The current international situation is still profound, complex and turbulent, with dramatic changes in major-country relations and geopolitical landscape. In the light of this, China-Europe relations are more complicated, confronted with growing challenges. At this historic conjuncture, the international community is highly concerned about the new trends of China-Europe relations. On March 22, a Symposium on China-Europe Strategic Dialogue and Mutually Beneficial Cooperation, cohosted by the International Cooperation Center (ICC), Overseas Friendship Committee of China Group Companies Association (CGCA) and Blavatnik School of Government of Oxford University, was held in the Hall of Crane at Beijing International Club. Ma Shengrong, former Vice President and Executive Deputy Editor-in-Chief of Xinhua News Agency delivered a keynote speech at the symposium. With a special invitation, Ngaire Woods, founding Dean of the Blavatnik School of Government and member of the International Advisory Panel of the Asian Infrastructure Investment Bank, delivered a keynote speech. Zhang Chongqing, member of the Strategy Advisory Committee of the ICC and Honorary President of the CGCA, presided at the symposium.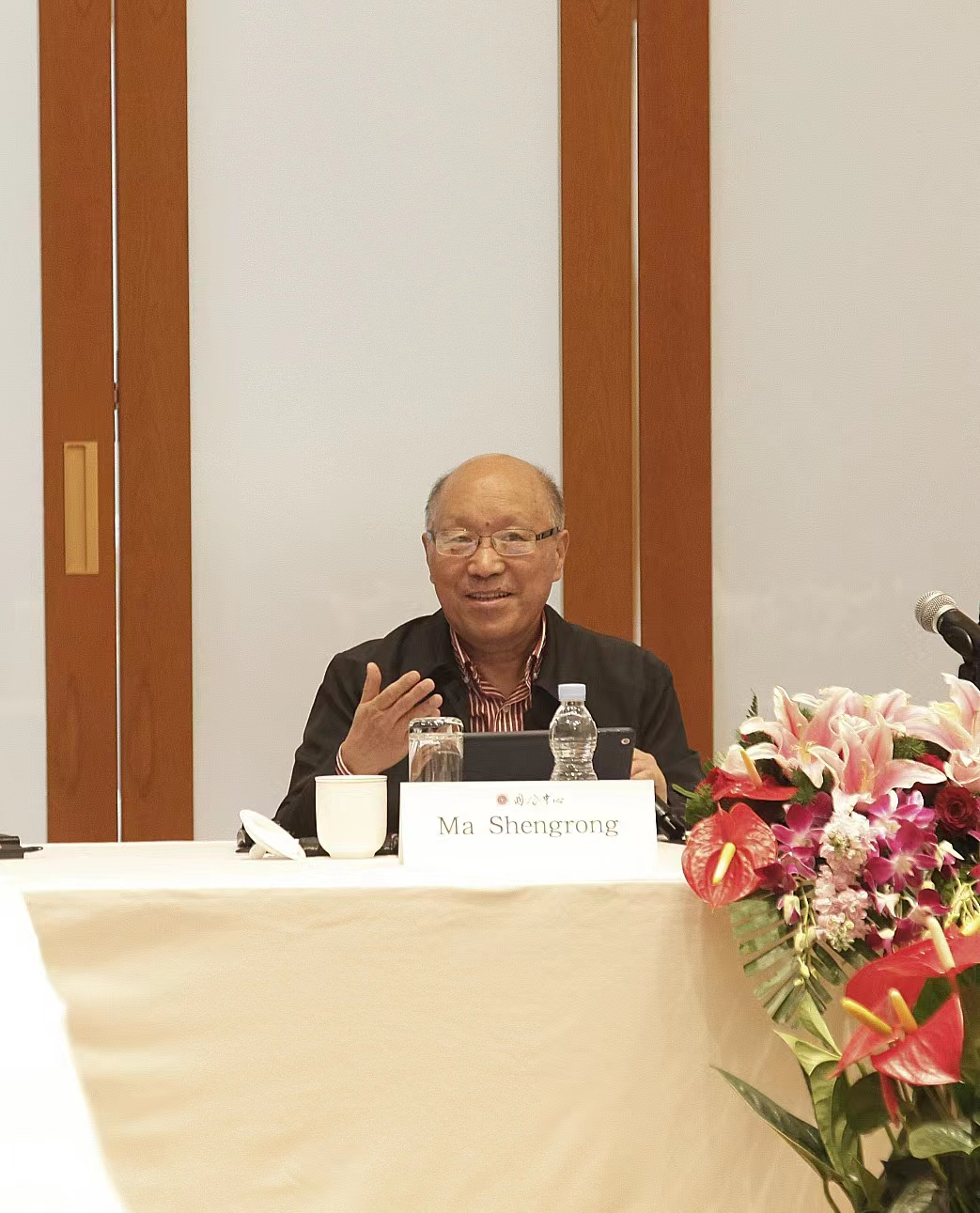 Ma Shengrong is delivering a speech.
Mr. Ma delivered a speech titled "A Brief Discussion on the Recent Direction of European-China Relations". In the speech, he pointed out that, as China adjusted its epidemic prevention and control measures, resuming contacts with other countries and maintaining stable growth have reemerged as prior objectives of China's policy. China will actively bolster strategic and practical cooperation with Europe. However, it is worth noting that major European countries have different policies towards China. From a comprehensive perspective, the EU, while making policies, is inclined to reduce its dependence on China and seek diversified partners in order to maintain its competitiveness in economic, scientific and technological sectors. Policy choices made by European leaders, especially those of major European countries, will have a crucial impact on China-EU relations. Mr. Ma said that as French President Emmanuel Macron, Italian Prime Minister Giorgia Meloni and leaders of the EU and European Council expressed their willingness to visit China, the EU will step up political dialogue and economic and trade cooperation with China to serve its interests. In this regard, both China and Europe should seize the opportunities, seek common ground while reserving differences so as to promote the development of economic and trade relations and drive China-Europe relations forward with concerted effort.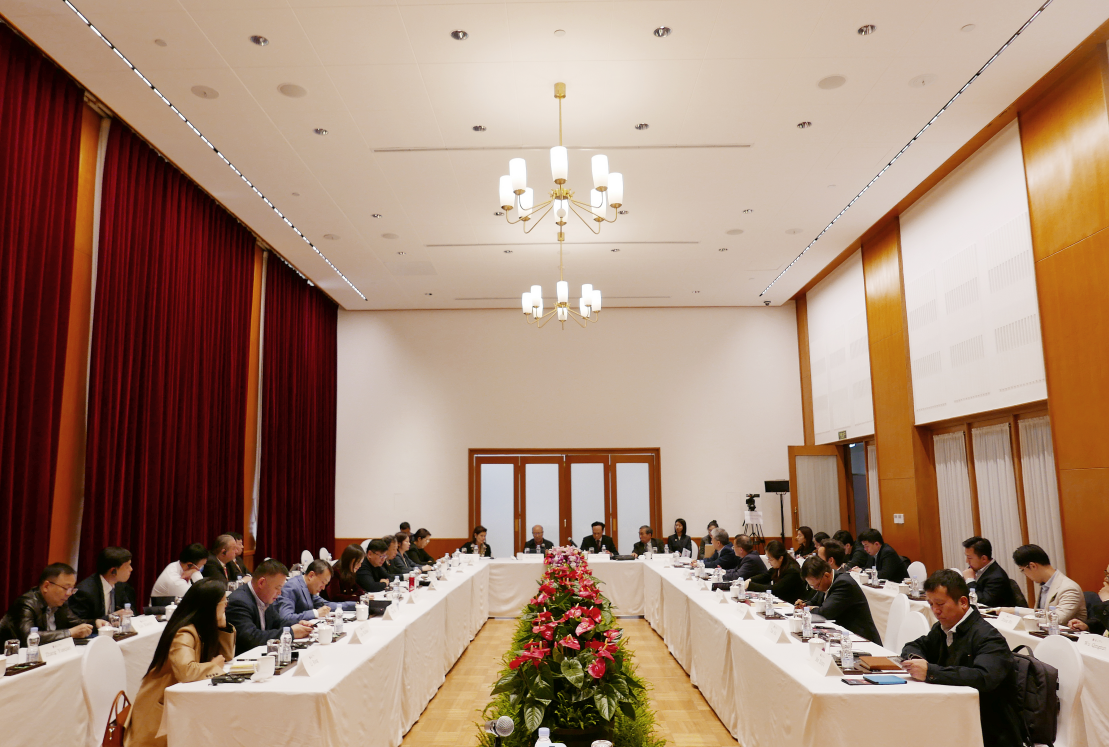 The Hall of Crane at Beijing International Club
Ngaire Woods is delivering a speech.
Ms.Woods addressed the symposium with an excellent speech titled "Safeguard Multilateralism and Promote China-Europe Cooperation". In the speech, she pointed out that the first challenge shared by all countries and regions in the world today is domestic employment and social cohesion. The second challenge is caused by technology competition, the regulations of new technologies in social policy and public goods decisions and the approaches of supervision on technology companies with windfall profits. Moreover, there are also challenges resulted from changing supply chains, conflicts, energy transition, the disobedience to international law and the UN Charter and the inaction of the Sustainable Development Goals. Only by overcoming these challenges can we enjoy an open and rules-based trade system and remold the world trade order.
Ms. Woods reckoned that the sound development of China-Europe relations will benefit the world. Nowadays our world is witnessing a sluggish economy and the hampered implementation of the UN 2030 Agenda for Sustainable Development. Given that the international situation is more volatile with more prominent global challenges, China-Europe relations are all the more significant. The more complicated and difficult the situation is, the more Europe and China should commit to dialogue, mutual respect, mutual benefits and win-win cooperation. China-Europe cooperation is conducive to the true multilateralism. Working together to safeguard world peace and development, China and Europe will inject stability and positive energy into the world, so as to foster enduring world peace and common prosperity.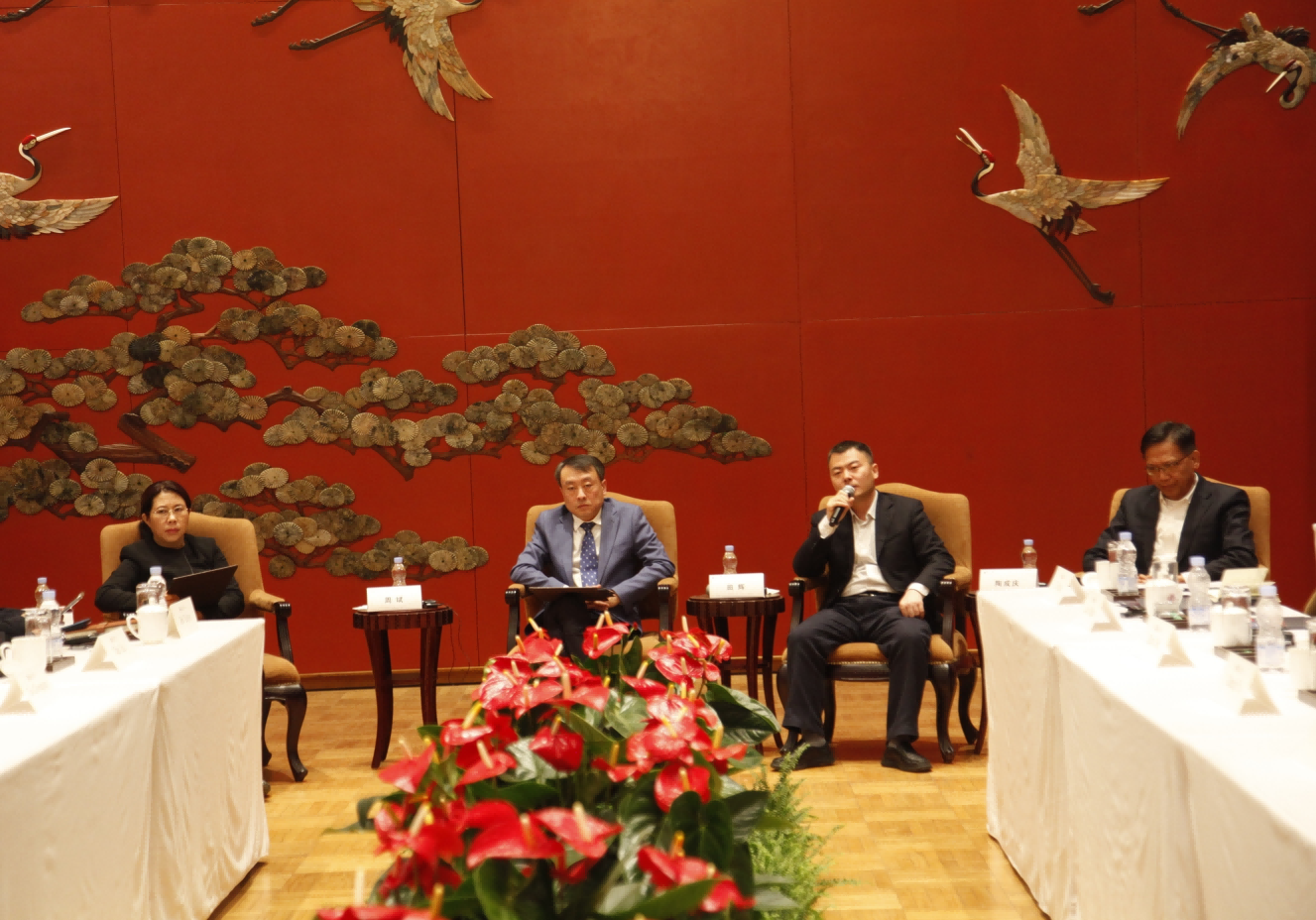 Dialogue between special guests
The symposium was held behind closed door and lasted nearly four hours, with a total of 23 guests presenting their insights. Special guests including Zhang Zhixiang, member of the ICC Strategy Advisory Committee and former IMF Executive Director; Zhang Shuhua, member of the CPPCC National Committee, Director of the Institute of Political Science at the Chinese Academy of Social Sciences, and Dean of the School of Government at University of Chinese Academy of Social Sciences; Jiang Xiheng, Deputy Director of Center for International Knowledge on Development; and Ma Jian, former Deputy Representative of the UNIDO in China offered their views in group discussions. Zhang Yu, Vice President of the CGCA and Deputy Director of the Guiding Committee of ICC, attended the symposium. Representatives from the CPC, the Chinese government, foreign embassies in China, centrally-administered SOEs, and multinational corporations, together with guests from research institutes and think tanks discussed topics such as "China-Europe Comprehensive Strategic Partnership and Macroeconomic Policy Coordination", "Prospects for International Financial System and China-Europe Cooperation", and "Opportunities and Challenges for China-Europe Investment and Economic Cooperation".
The participants believed that China has long viewed Europe as a comprehensive strategic partner, supports the EU's strategic autonomy, advocates unity and prosperity in Europe, and endorses the EU for playing a constructive role in international affairs. Both sides should value the partnership and respect each other's core interests so as to foster a better future for the coming vicennium. The essence of China-Europe economic and trade relations is to leverage our complementary advantages to achieve win-win results. In this regard, both sides should embrace openness and cooperation, reject decoupling or severing industrial and supply chains in order to maintain both chains stable across the world. China and the Europe should correctly assess the international landscape and the underlying trends, adhere to the principles of mutual respect and mutual benefit, keep promoting dialogue and cooperation as well as expanding bilateral trade and investment. Additionally, both sides should work together to address global challenges such as climate change, promote political settlements on international and regional hotspot issues, and thus making greater contributions to world peace and development.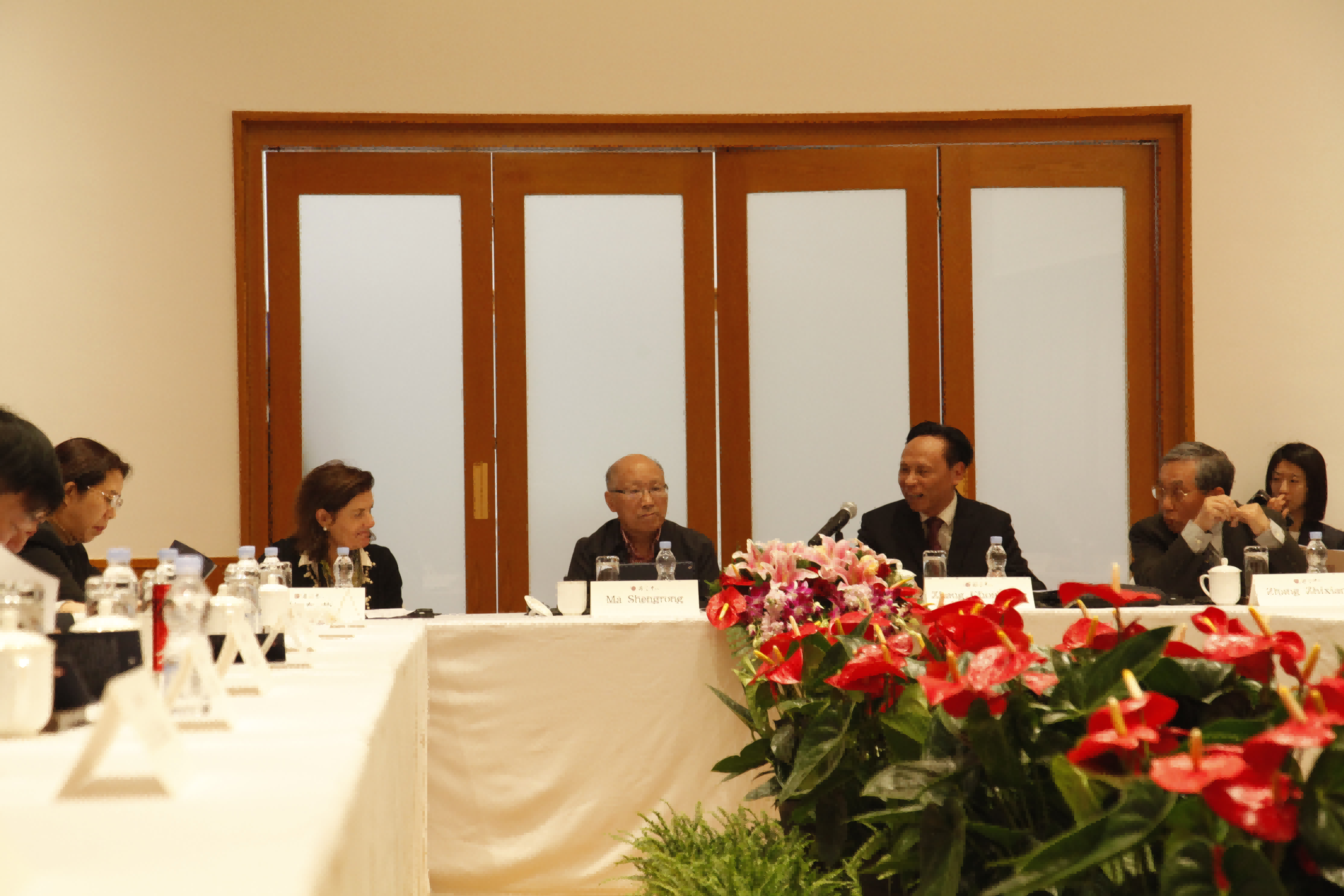 Zhang Chongqing is presiding at the symposium.
Zhang Chongqing concluded the symposium with a speech. He pointed out that great changes unseen in a century have caused unprecedented turbulence and urged transformations in various sectors around the globe, posing severe challenges to China-Europe relations and mutually beneficial cooperation between the two sides. Major challenges can be found in the following aspects. First, geopolitical risks continue to rise. The Ukraine crisis triggered people's concern about the "new Cold War" after causing multiple crises including the ones in energy and food security and leading the world into a path featuring bloc-building, fragmentation and disorder. As a result, there are mounting instability, uncertainty, and unpredictability. Second, trade protectionism is picking up, hindering globalization and causing soaring inflation. The U.S. insists on "decoupling" and "severing industrial and supply chains" with China, endangering the stability of the global industrial and supply chain and economic recovery. Third, the U.S. has gone even further in suppressing, containing and strategically encircling China, and continuously hypes up the "China threat theory" with Cold War mentality and ideological prejudice, risking world peace and stability, and the rights and interests of other countries.
In fact, China and Europe do not have fundamental conflict of interest or contradiction, or at least are unlikely to pose a threat to each other's homeland security. China always believes that as China-Europe relations have global and strategic influence, the choices made by both sides bear on the future of the whole world. Against the backdrop of constant crises and chaos worldwide, the international community's call for peace and development becomes stronger, its aspiration for fairness and justice firmer, and its pursuit of cooperation and mutual benefits more urgent. In a new historical era, China and Europe should seek common ground while reserving differences and jointly overcome difficulties in the spirit of dialogue and cooperation, peace and stability, and openness and mutual benefits, so as to inject valuable stability to a world in chaos with their concrete actions.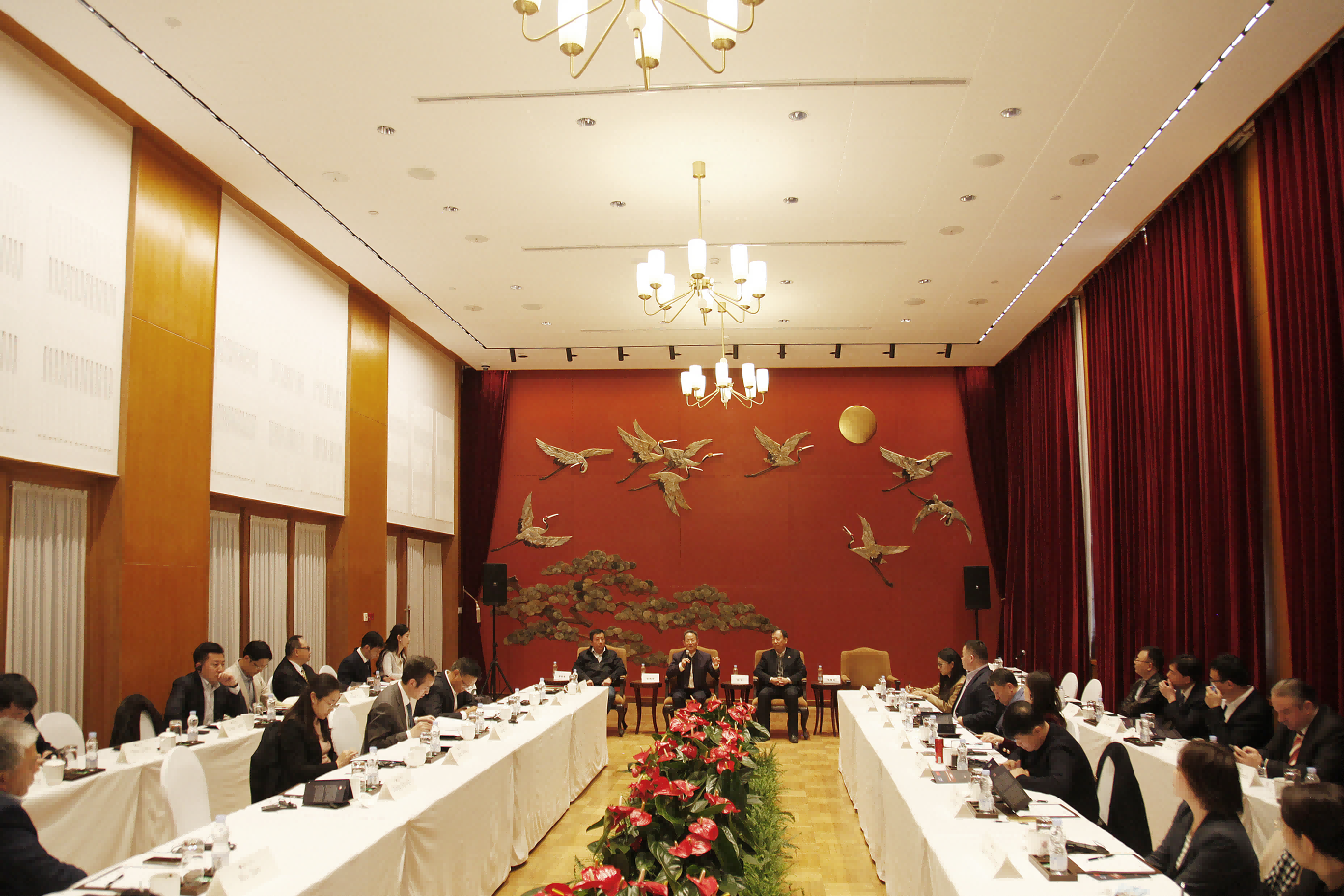 Ongoing symposium
Zhang Chongqing stressed that promoting cooperation between China and Europe under the current situation is in the interests of both sides. Meanwhile, win-win cooperation between China and Europe is in line with the common aspirations of the both sides and the international community, and China is committed to this endeavor. As the overall GDP of China and Europe accounts for one-third of the global output, both sides are the main drivers of the world economy. Over the years, China and Europe are further interdependent in economy. In 2022, the trade volume between the two sides exceeded USD 800 billion for the first time, and the cumulative bilateral investment scale exceeded USD 270 billion. In this regard, China and Europe have boosted global stability and positive energy. This year marks the 20th anniversary of the establishment of a comprehensive strategic partnership between China and the EU. To resume its contacts with Europe and other countries and regions in the world, China is proactively preparing for the meetings between Chinese and European leaders and will make full use of the high-level dialogue mechanism in various fields. All the efforts demonstrate China's willingness to maintain its exchanges and cooperation with Europe, injecting more confidence and strength into the current world full of uncertainties.
The symposium was attended by 45 Chinese and foreign guests, including Mei Xinyu, Senior Researcher of the Chinese Academy of International Trade and Economic Cooperation of the Ministry of Commerce; Qian Zhu, Deputy Director of the Central Liaison Committee of the China Association for Promoting Democracy and Vice President of the Institute of Global Governance and Development of Tongji University; Cheng Yu, Executive Secretary General of the ICC; Tao Chengqing, Deputy General Manager of China Southern Air Logistics Company; Zhu Hongshan, former Deputy General Manager of the Strategic Development Department of China Communications Construction Group; Wu Qingzun, Executive Director of Development Committee of the Joint Council of ICC; Tian Hui, Executive Director of Strategic Development Department of State Development and Investment Corporation; Xin Shaosong, Executive Deputy Director of the Administrative Office of ICC Secretariat; Zhou Bin, Chairman of China-Europe Science and Technology Innovation Center in Qiaomengyuan, Beijing and He Hong, Chief Chinese Representative of Helmholtz Association.