On February 12, 2023, Acting Consul General of the People's Republic of China in Jeddah Zhang Weikang, along with the young colleagues, hosted a meeting at the Consulate General with the Tsinghua University practice group, which was conducting research in Saudi Arabia. He shared information about Saudi society, lives and livelihoods as well as China-Saudi Arabia relations and offered insights on how to carry out in-depth cultural exchanges, tell the Chinese story well and enhance people-to-people connections.

Acting Consul General Zhang gave a general introduction to the students on China-Saudi Arabia relations with a special focus on current friendly cooperation between the two countries in various fields such as politics, economy, trade and culture. He then briefed on the good momentum of deepening mutual trust and mutually beneficial cooperation between the two countries, and took students' questions on the China-Saudi Arabia trade and investment, progress in cultural industry and youth exchanges. He applauded Tsinghua University for organizing this field trip which allowed young students to have personal experiences of an open and reforming Saudi Arabia. He remarked that such a trip would help the students to broaden global horizons, boost strategic thinking and foster a global perspective. At the same time, he hoped that the students will improve their performance in school, be inclusive and learn from others, and strive to be the civil messengers of their generation to promote China-Saudi Aribia and China-Arab ever-lasting friendship.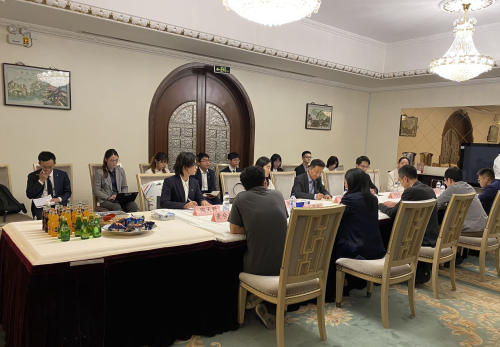 Professor Hu Yu, Secretary of CPC Committee of the School of Journalism and Communication in Tsinghua University, said that the meeting was a vivid lesson in international relations and politics, providing Tsinghua students with a depiction of a real and vibrant Saudi Arabia. Students expressed that they were deeply inspired by the sincere and passionate communication with Acting Consul General Zhang and young diplomats at the Consulate General and showed their willingness to promote cultural exchanges between China and Saudi Arabia and tell China's stories well.
The practice group included 13 distinguished students from various schools and departments of Tsinghua University, such as School of Journalism and Communication, School of Public Policy and Management, Department of Foreign Languages and Literature, and School of Economics and Management. From February 7th to 16th, they had conducted field studies and communicated with Chinese diplomatic offices, Chinese institutions, Saudi higher education institutions and think tanks in Saudi Arabia. The field trip reached fruitful results.